Posted on 2018-01-02, updated at 2018-01-04, by
fubber
.
---
Description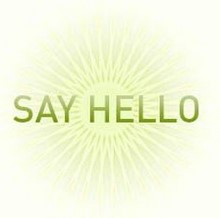 Christian Hudson Say Hello
Say Hello is a video program presented by Christian Hudson inside the membership area of his company, The Social Man. It's broken up into 4 modules and total playing time is around five and a half hours.
You can also download the 'digital box' in the member's area that contains audio recordings of the videos as well as a written transcript of the full course and a couple of bonus reports.
It's a simple, clean interface and easy to navigate your way around. The videos are quite simple and just feature Christian talking directly to the camera. It's an older program than some of the Social Man's other products, so this wasn't recorded at a live seminar like Girlfriend Activation System or The Desire System.
What Say Hello Is All About
This isn't a generalized program that tries to teach you everything about women and dating. It's highly targeted to beginners who have trouble taking that first step of walking up to a woman and starting a conversation.
Even though the initial approach is a small part of the overall picture, a huge number of guys get stuck here. Whether it's due to issues like social anxiety, low self-esteem, or a lack of knowledge and experience, it's a major sticking point preventing many men from dating the women they want.
So it's good to see a product tackle this issue head-on and spend the appropriate amount of time to help guys get past this once and for all.
Christian goes into detail about his own struggles with approaching women when starting his journey, and how he felt physically sick at the thought of it. However, he found a way to get past that and meet and date beautiful women, and there's no reason you can't do the same.
Say Hello is designed as a 4-week program, broken up into 4 different modules. The idea is you watch a module, go out and implement it for a week and then come back to the next module.
In theory this is good, however some guys may struggle with this format. The reason for that is the specifics of what to say aren't really covered in detail until module 3. So if you have severe anxiety because you don't know exactly what you should say to a woman, I suggest you watch modules 1 and 3 together before going out and applying it.
Approaching Confidence
The first module is called Approaching Confidence, and it's designed for guys who have trouble taking action due to approach anxiety. Christian points out that, "if it's not fun, your life's gonna suck. The goal of the course is to make you enjoy and have fun with approaching."
This is a pretty big deal, because if approaching women is something you always dread doing, you'll struggle to maximize your success. But if you can turn it into something you actively enjoy doing, the process will be fun and it'll make everything so much easier.
If you do feel nervous at the thought of approaching women, you're not alone. Most men have felt this in some shape or fashion. Christian describes his own experience when first starting out as "an impending sense of doom" and feeling sick and weak.
There's some good information and explanation of this throughout the module, detailing why you feel it and how best to deal with it. He also talks about solutions he tried in the past but don't really work e.g. drugs and alcohol.
4 Common Fallacies That Hold Men Back
Christian talks about the 4 common fallacies most men believe which stop them effortlessly approaching women. If this is something you struggle with, chances are at least one of these 4 issues is to blame.
1. I Need Game
A lot of guys believe they need to develop awesome 'game' before they can get women. Christian talks about this and asks you: "do you want girls or game?" Then he explains why one will usually take you away from the other. This is great advice for guys who fall into this common trap.
2. What I Say Matters Most
The first thing you say isn't nearly as important as you probably think. While some things are definitely more effective than others (which you'll learn in module 3), you can say just about anything and get away with it if you do it in the right way.
To demonstrate this, Christian takes you through an example of his 'bombing opener'. This is something he developed to try and intentionally get rejected so as to desensitize himself to it. What he found though is when he had a good energy and was having fun, girls still responded well to it. (This is a sexual opener, so if you're an absolute beginner you're probably better off working your way up to this one.)
3. I Need To Be In State
Christian mentions how this concept has been popularized by Real Social Dynamics. But the reality is you won't be in state all the time, and run the risk of letting your emotions control the actions you take. So this is a section you'll want to pay attention to.
4. I've Gotta Be (Blank)
This is all about the excuses as to why you believe you can't approach and attract women. For example, I've gotta be taller, richer, younger, better looking etc.
These excuses are all in your head and not reflective of reality. Christian points out that if you look around you'll see other men with the same drawback as you who are crushing it. Often the excuses are ridiculous anyway, such as Christian's old one that women wouldn't like him because his hair was too blond. If you've ever had thoughts like these (and we all have at some point) this lesson is important for you.
Perspective Shifts That Help You Approach Women
Still in the first module, Christian also shares 6 different shifts in your perspective that help to make approaching women easier.
1. Owning Your Manhood
There are some important insights here, talking about how men have allowed themselves to be castrated and have failed to step up to the new level women have set. This results in a lot of men approaching women from a position of low value - this is relevant to some of the popular dating tactics from back in the day.
Christian encourages you to take responsibility on your shoulders and step up and be the man women are waiting for. The test of a man is to step into fear when you feel it, it's a challenge to your manhood that you can rise to or shrink from.
2. The Humor Of It All
This isn't about trying to act like a comedian, but about finding the humor in interactions themselves. Christian relates how his clients who struggle the most are usually too serious and goal-oriented and forget to have fun talking to women.
You'll hear some specific techniques for dealing with this issue, including creating humor with 'diversions', how to use 'frames', and the power of facial expressions.
3. Anxious Or Aroused
This is an explanation of the fight or flight response and the role it plays in feelings of approach anxiety. Christian explains this in an easy to understand way and reframes it into something powerful that you can use to make approaching women more fun and exciting.
4. What It Is
Here he explores the concept that the assumptions you make are not reflective of reality. This is something most guys suffer from, and Christian talks about the 'find the truth' philosophy he learned from Rob Judge (which is covered in more depth in Rob's book The 4 Elements of Game).
5. Putting Rejection In Its Place
"Rejection is a rite of passage, almost like going broke as an entrepreneur," says Christian. He reveals that he's probably been rejected in every type of place that you can approach a woman. But because he was able to risk rejection he grew from it and has since dated some incredibly beautiful women.
There's also some advice here attributed to Nick Sparks that any rejection is 60% related to her stuff and only 40% of it is to do with you. The takeaway from this is to work on the aspects you can control, but not to take any rejection from a woman so personally.
6. The Killer Instinct
This is all about how to take your natural masculine desires and channel them in a positive way. When used properly, this can be one of your greatest assets. And as Christian points out, any guy he's even seen that's great with women has got some of that killer instinct in them.
Body Language
The second module of Say Hello is all about body language and mastering the vibe with women. This section is a bit shorter than the first, but still has some valuable content.
Christian talks about the different aspects of good body language and has a female assistant to demonstrate this in action. This is helpful so you can actually see how it looks when done right rather than just hearing about it.
You'll hear about the four elements of good vocal tonality, which is important, especially if you spend time in bars and clubs.
Another thing that's covered here is calibrating your sexuality based on your environment. This is something many guys get wrong - whether it's being too sexual during the daytime or not sexual enough in a bar/club environment.
Christian also gives you some non-verbal ways to approach women. For the most part these are different looks you can give her, and will be most effective in a place you can establish eye contact, such as a bar or coffee shop. If you were on the street, for example, it wouldn't work so well.
A technique known as 'social momentum' is covered in this module, and it's one of the most effective ways you can deal with you approach anxiety. When you learn this and make it a habit, meeting people becomes a lot easier and stress free.
If you're the type of person that likes to model what successful people do, Christian gives some examples of actors and celebrities that have good body language and swagger that you can learn from.
There's nothing too revolutionary in this module, but it's a good roundup and explanation of foundational principles you need to know.
1) Join the Files with Free Splitter v5 if extension ends with chunk00
2) Extract the archives with Winrar 5 with password
Password: Golden_Plaza
Sponsored High Speed Downloads
---
Search More...
Christian Hudson Say Hello
---
Links
Download this book
No active download links here?
Please check the description for download links if any or do a search to find alternative books.
---
Related Books
Comments
---
1 Comments for "Christian Hudson Say Hello":
---
Add Your Comments
Download links and password may be in the description section, read description carefully!
Do a search to find mirrors if no download links or dead links.